Petalburg Woods
Edit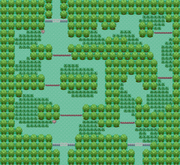 Petalburg Woods isn't hard to navigate through, compared to other forests in the Pokémon games. Go eastward (there is a Potion hidden in the tall grass) and get out through the second exit. Pick up the Poké Ball and come back to the forest. Now head westward and take the Parlyz Heal. Eventually, you will see a man getting attacked by someone who is up to no good. You will have to rescue the man by defeating the guy attacking him. Once defeated, the Team Aqua grunt will run away, and the man will thank you gratefully and reward you with a Great Ball. Afterwards, you can use the north exit to reach the north side of Route 104.
There are two trainers here:
Trainer
Pokémon

Bug Catcher Lyle
48
Wurmple♂ Lv.3
No item
Wurmple♂ Lv.3
No item
Wurmple♂ Lv.3
No item
Wurmple♂ Lv.3
No item

Bug Catcher James
96
Nincada♂ Lv.6
No item
Nincada♂ Lv.6
No item
Wild Pokémon
Edit
Pokémon
Levels
Encounter Rate

| | |
| --- | --- |
| | Poochyena |

5-6
30%

| | |
| --- | --- |
| | Slakoth |

5-6
5%

| | |
| --- | --- |
| | Wurmple |

3-6
25%

| | |
| --- | --- |
| | Shroomish |

5-6
15%

| | |
| --- | --- |
| | Taillow |

5-6
5%

| | |
| --- | --- |
| | Silcoon |

5
10%

| | |
| --- | --- |
| | Cascoon |

5
10%
Shroomish

Shroomish is one of the best Grass-types in Emerald, excluding the Treecko evolutionary line. As a Shroomish, it focuses more on Defenses than on the offensive side. Once it evolves into Breloom at level 23, it gains a Fighting-type alongside a massive boost in Attack and Speed, and sends its defense for a toss. With access to one of the best moves in the game and an Attack stat that makes even Heracross jealous, Breloom is an underrated and excellent Fighting-type. Most notably, it packs resistances to both Earthquake and Rock Slide. It comes with the ability Effect Spore, which induces paralysis, poison, or sleep on contact.

As for moves, Shroomish starts off with Tackle and Absorb. At level 10, it will gain the useful Leech Seed, which saps health friom the opponent every turn. Mega Drain is available at level 16. Mach Punch, its first Fighting-type move, is learned at level 23, right after evolving. Lastly, it gains Sky Uppercut and DynamicPunch at level 36 and 54, respectively.

Moving on to TMs, it can learn Bullet Seed, which you will get shortly; Sludge Bomb, after your 5th gym badge; and Giga Drain. You can also consider Focus Punch and Brick Break. Iron Tail and ThunderPunch (via move tutor) can give it some coverage.

Overall, it is a middle to late game Pokémon, suitable if you picked Torchic as your starter.

Recommended Movesets
Set 1
Special Sweeper
Set 2
Staller
Set 3
Swords Dance

Giga Drain
Brick Break
ThunderPunch
Sludge Bomb

Mach Punch
Leech Seed
Toxic
Substitute

Swords Dance
Sky Uppercut
Giga Drain
ThunderPunch
Ad blocker interference detected!
Wikia is a free-to-use site that makes money from advertising. We have a modified experience for viewers using ad blockers

Wikia is not accessible if you've made further modifications. Remove the custom ad blocker rule(s) and the page will load as expected.